Music Festival (Greece) by Chris Tsantalis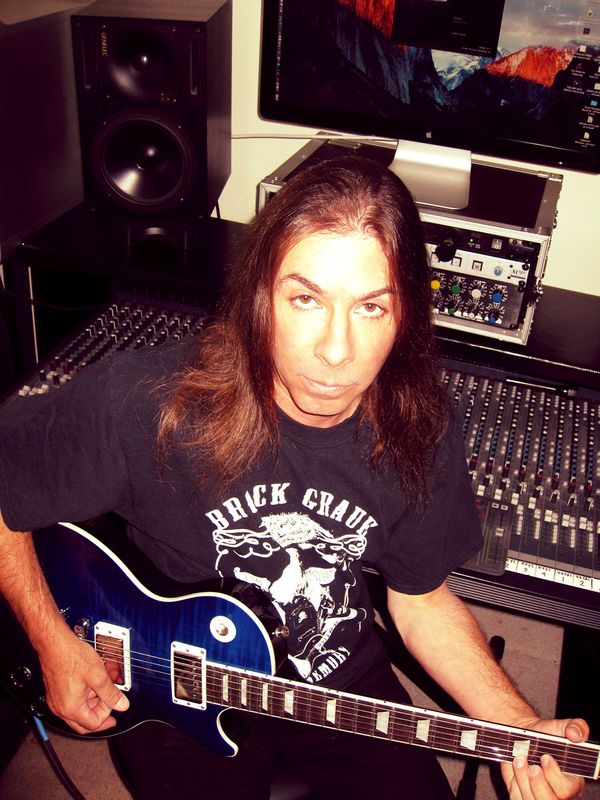 Tim Branom recording at his home studio in 2018. Photo by Cindy Kraus.
Hello Tim, welcome to MusicFestival.gr
Thanks for having me. 
Give us a brief Bio.
Google seems to overly simplify me. I'm a guy from Seattle who left for Los Angeles right when the Grunge scene was about to explode in 1990. I had an opportunity to sing for a band on a major label in California, but unfortunately they broke up soon after I moved here. Then I watched a lot of my previous bandmates and friends became famous in Seattle. But I slowly held on and worked at record label, as well as constantly having my foot in the writing and performing side, mostly with a band called Cloud Nine. Over the years, I've played with a few people you may have heard of - Days Of The New, Carly Smithson (American Idol, The Fallen), a few of the guys from Alice In Chains and even a Metal band called Fifth Angel for about a minute. 
Name your 10 favourite bands and singers.
It might surprise people to know that who I like and was influenced by, might not sound anything like the music I create. But if I had to name just ten, it would be a mixture of old and new: Chris Cornell, Paul McCartney, Freddie Mercury, Ronnie Dio, John Lennon, Audioslave, Led Zeppelin, The Beatles, Linkin Park, Stone Temple Pilots, so many more… 
What is your favourite album you made so far what is your fave music era?
My first big break came in 2000 when Travis Meeks and Interscope Records flew me out to Louisville, Kentucky to play guitar and bass on the third Days Of The New ("Red") album.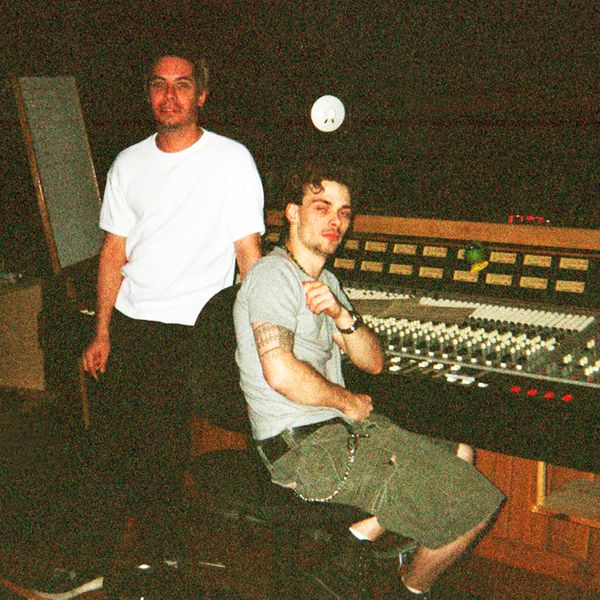 Tim Branom (left), Travis Meeks (right) recording the Days Of the New album, "Vol. 3" in 2000.
After a week and a lot of things happening, the recording budget was over for that part of the process and I went back to LA. I had played on two songs – "Fighting W/ Clay" and another – but they had some problems with a recording engineer – (I think he was fired) – and my parts didn't make the album. So that engineer and myself both went uncredited.
But when I got back in Los Angeles, everyone wanted to work with me and I could do mo wrong. I got my first paid Producer credits and those three CD's sold well. (They were three similar Jazz/Rock Christmas albums on the Laserlight label).Then JVC Records Japan started working with me, and had plans to, but never signed me, and then went bankrupt in the US. You could just feel that something was happening in the music industry – and it wasn't good. I've worked on a lot of albums but for others instead of myself. But now you will finally see albums released by me as a solo artist and with other bands I was in a long time ago. My favourite music era? I seem to really like 70s meets the 90's sound with modern recording technology. So that sort of becomes a 2019 sound, I hope!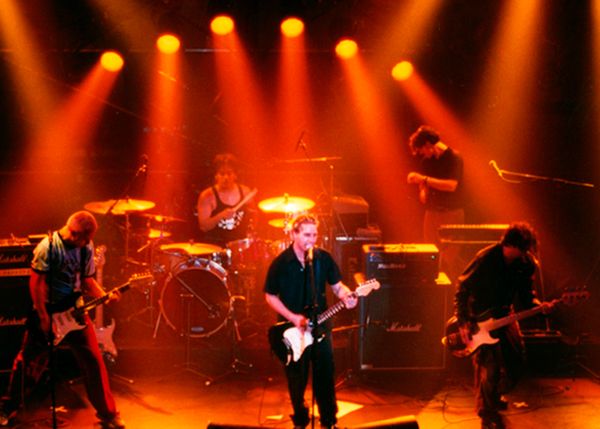 Tim Branom live in Japan in 2000.
L-R. Guitarist Brian Davis, Drummer Jackie Ramos (Bangalore Choir, Hericane Alice, Bad Moon Rising), Vocalist/Guitarist Tim Branom, DJ Billy Pleasant (The Brian Jonestown Massacre), Bassist Mike Davis (Rob Halford, Dramarama, Lizzy Borden).
When should we expect a new album from you?
I think sometime at the end of this year, I will have a full-length solo album with at least 15 songs and more videos.  On this album, I write all the songs, play all the instruments (except drums) and even record most of it myself. I've been finishing one song at a time and then making a video for each one. And I am offering a free download for your readers of a recent song called "Blind" on my website: timbranom.com. I have also been approached recently by a few labels to release music I made in the 80s and 90s by my bands Gypsy Rose and Cloud Nine. So that might take a year to clean up the old tapes and make them releasable. But it's fun to revisit those old songs and put together a nice package of all unreleased songs. 
You collaborated with Alice In Chains. Tell us something about this.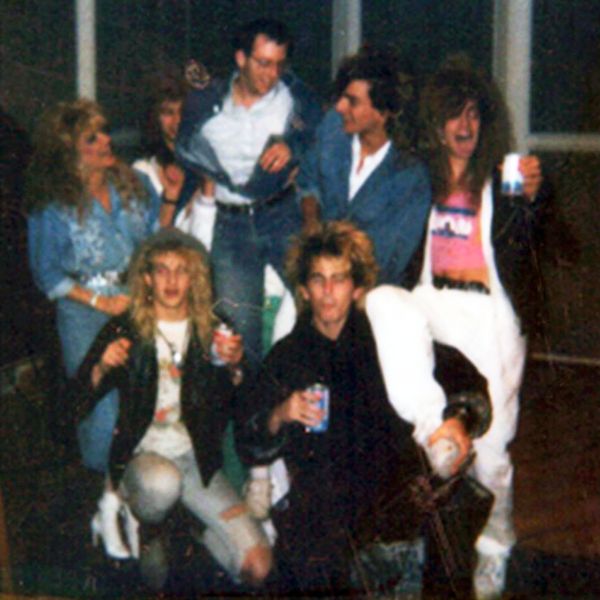 Alice N' Chains in London Bridge Studio, December of 1986.
Top Row: L-R, Tracy Goodrich-Frontz, Producer Tim Branom, Engineer Peter Barnes, Bassist Johnny Bacolas, Guitarist Nick Pollock.
Bottom Row: L-R, Vocalist Layne Staley, Mike Mitchell (former Sleze bassist)
My brother, Scott,  had a couple friends (Johnny Bacolas - bass and James Bergstrom - drums) who eventually formed a band. By the time of high school, they were all in the same grade. My brother came to me one day and said his friends wanted to work with me and I ended up Producing their three-song demo. I had a certain knack of getting good sounds and an instinct for studio tricks and which Engineers and studios to use. I think we worked out the pre-production for about three months. We worked on the arrangements and even the equipment to be used in the studio. The guitar used by Nick Pollock on these recordings was stolen but eventually returned to me.
The singer (Layne Staley) had a natural ability but I felt he needed some training to get a bigger sound when he sang the higher notes and the screams. So about once a week, he came over and we went over strengthening his voice. We did this for a few months. I had been taking vocal lessons with David Kyle and so we used those methods. We needed to do this because the studio rate was about $65 an hour and we couldn't waste time on Layne having a bad day or not singing good or we would run out of money. And I'm not sure why, but Johnny Bacolas (the bassist) left the band temporarily and Mike Mitchell joined on bass. 
I recorded the first two songs ("Fat Girls" and "Over The Edge") on my four-track recorder as demos at both the Music Bank and in my bedroom in Shoreline, WA. Because the band was well rehearsed and we had already recorded a preliminary recording, we then went into the 3 big studios (London Bridge, Robert Lang and Triad Studios), and just did the same thing but of much higher quality. Then later, Johnny Bacolas was back in the band and we did the third song called "Lip Lock Rock." All the guys were extremely talented and very young (16-18). Every one of them would end up being in successful bands during the Grunge era (Alice In Chains, Second Coming, My Sister's Machine). But I doubt these three studio songs or the two four-track demo songs I recorded would ever be released. I think that type of decision would have to be approved by too many people. 
At first, the band was called Sleze just to make a statement and to show that they didn't care about anyone's rules. But they would change their name to Alice N' Chains when the cassette demo was first "released." (100 copies were duplicated and handed out). The drummer, James Bergstrom, asked me what I thought about the new name before the cassettes were made as if to get a verbal OK to proceed with confidence, and (I just assumed it was influenced by Guns N' Roses, because Layne always knew about LA bands before the rest of us did). But a few months later, they changed their mind again and slightly changed the spelling to Alice In Chains, so they would have to change the remaining cassettes by hand-drawing the new spelling.  I gave one of the cassette demos to DJ Jeff Gilbert to play on his radio show, KCMU and he started promoting them.  They became very popular and always had a party after every show. But all of them (except Mike Mitchell), lived with their parents because they were so young.

When the record store I worked for closed, I was broke and had nowhere to stay, so the band let me stay in their rehearsal room at the Music Bank.  Then one day, Layne shows up with his stuff in bags and says he needs to live there too. We had many fun times in that room with just the two of us talking about ridiculous things. Layne ended up moving to West Seattle and I ended up moving to Burien. But both of us were jobless and just sleeping wherever people would have us. Alice In Chains continued playing shows but as bands do, they broke up.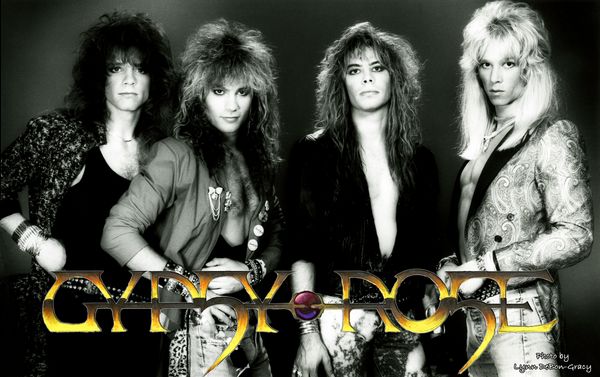 Gypsy Rose in 1987. Photo by Lynn DeBon-Gracy. Gypsy Rose logo by Alan Fuchs.
L-R, Drummer Mike Gersema (LA Guns, MSG), Bassist Mike Starr (Alice In Chains), Vocalist Tim Branom, Guitarist Brock Graue
Almost a year later, my band, Gypsy Rose, was in need of a guitarist. I was living with our bassist (Mike Starr) and I slept on the couch in front of a set of white drums that belonged to Sean Kinney. My friend Kari brought me and our drummer (Mike Gersema) to a party at the house of Vinnie Chas and his roommate, Jerry Cantrell. Jerry seemed eager to play with us and played me his demos of his songs. They were full of guitar harmonies and sort of reminded me of the band "Boston". You could tell that he spent a lot of time working out all the parts. He ended up moving into our band house for about a month and slept on the floor right near the drums in the basement of the Gypsy Rose band house in Des Moines. They worked up a bunch of Jerry's songs and were waiting for me to write words. But I had agreed to make a video and record with a band called Suite 69, so I stayed a few weeks with my grandma to be closer to that band. So Cantrell, Starr & Gersema would call me and just set the phone down and play new songs to me full blast! Of course it was all distorted but I could still hear the music. But I think there was a different musical direction for some of us. We wanted to be dark like Motley Crue, Whitesnake, and Def Leppard, but it seemed like Jerry was writing a different style, and so Jerry was told we weren't a good match. All of a sudden Jerry was gone and all these years later I found out he must have been pissed because he also lost his place to live. But because Jerry needed a place to stay, he ended up moving into the rehearsal place called the Music Bank. Then shortly after, there was a fight between Gersema and Starr over a girl, and now Mike Starr was also out of the band. One day, Melinda Starr gave her boyfriend Sean Kinney, a ride to the Music Bank to see Jerry. Sean then suggested Melinda's brother, Mike Starr who was suddenly available, and it was that easy. Now they had their bassist. But what was really strange to me, was that Layne ended up working with them (after they couldn't find a suitable singer). Layne was also back living and working at the Music Bank. (I think he was paid $4 an hour or credit towards a room). But to me, it was a strange combination because Layne came from the opposite end of town and didn't seem to have anything in common with them musically. But he changed his voice by singing low and dressing differently than he had before. And it must be known that this band came up with their new sound and songs in only six months! At first they used the name Diamond Lie (Jerry's previous band name), but a month later called themselves Alice In Chains (Layne's former band name). I went to their Music Bank rehearsal space after they were organized and Jerry proudly played some of his new songs with a Cry Baby pedal, which was very unique at the time in Seattle, which was full of Metal bands. (You can hear that guitar pedal sound on songs such as the guitar solo on "Sweet Child O' Mine" by Guns N' Roses). Jerry had incorporated that into his sound and was very good. Also, his music was suddenly much more angrier than anything he played with Gypsy Rose.  The sound was almost like Black Sabbath, but something new. 
In Greece, Alice in Chains has a huge following and Layne is an iconic singer, how was he as a human being?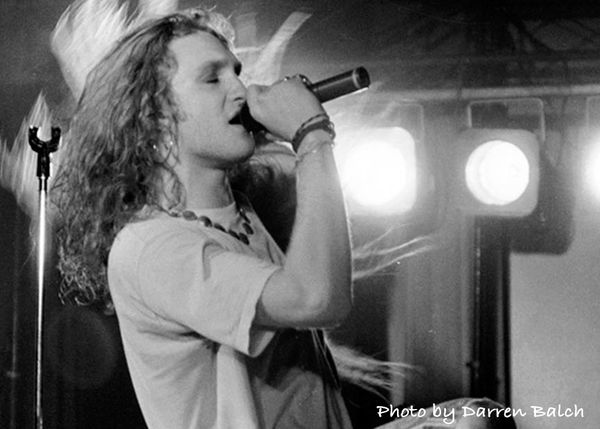 Layne Staley in 1989. Photo by Darren Balch.
I would take a guess that Layne was completely different in person than you would expect. I met him when he was 18. He was very shy, yet confident / Very quiet, yet processing information around him / Very open to being told what to do, yet very confident with new ideas. He was very non-judgmental and I never heard him say a bad word about anyone. He looked at life as a wave and just rode the wave – whatever came to him, he adapted and took the ride. He didn't complain about things. He just did what he had to do to get good and took his music seriously.  But I think in the end of his life, fame was not what he envisioned. In the late 90s when I had already moved to Los Angeles, I was on the phone with a friend in Seattle and Layne was there in the room, and heard our conversation. I could hear Layne angrily answering some of my questions about being him being rich, drugs – things like that. He was venting his anger about the illusion that fame and money bring. He knew the anger was not towards me and I let him get it out. And it seems he spent his last few years mostly by himself.  He lived right there across the street by the old Peaches Records, but no one knew because he would never open the door or go anywhere except to the Blue Moon Tavern or a nearby store to buy games. I think what people need to know is that, you may like his music, but as a human being, he was also amazingly nice. But I am sure that he felt that many people had taken advantage of his kindness. So he was very vulnerable and needed to stay away from leeches – which ended up being most everyone around him. 
How do you feel about the demise of the great Chris Cornell? There are a lot of theories. What do you think?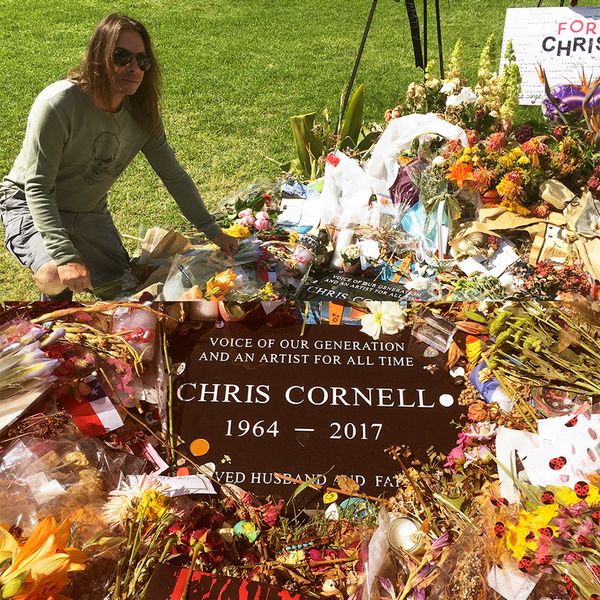 Tim Branom at Cornell's gravesite in 2017.
I am still extremely saddened by his death. His music, voice and personality are very comfortable to me and we have lost another great songwriter. It was hard for me to visit his grave (in Los Angeles), but I went with my friend Angel and a group of friends from Seattle on my birthday. It helped me emotionally to have them with me. It was very quiet and final – to see all the flowers and notes from people was like seeing all of our thoughts in front of us. Maybe I identify with him so well because we are both from Seattle and we both went to the same singing teacher (Ron Anderson). I also went to high school with Chris but don't remember ever meeting him. He used a different last name then (Boyle), so I only recently found out we were in school at the same time (he was a year older), and I think our high school expelled him for poor attendance or he just dropped out. Apparently he just worked a day job instead of graduating and played in bands as a drummer. This would be right about the time Def Leppard had the big hit "Let It Go", so everyone looked and sounded like that. As far as a theory on how or why he died, as a fellow singer, I think you have to consider the last thing he spoke about, and apparently he said he "blew his voice out."  That might not sound important to anyone else, but to a singer, if you can't sing, you've lost your gift. People need to hear what they are told when someone is troubled and on medication. Don't ignore someone's words. They are literally telling you their problem. Suicides can be prevented. Please listen. Words matter. Now we have lost the last great rock singer (and don't forget Chester Bennington). I almost feel it is my duty to carry on where Chris left off.  Chris must have been talking about himself in the future when he sang: "No one sings like you anymore." 
Your favourite Seattle musicians.
Chris Cornell, Soundgarden and Temple Of The Dog 
Which are your instructions for the new bands?
Because record labels made many bad decisions and did not get hip to the internet in time, now a band must only make music for the love of it. You cannot expect to ever sign with a major label or become rich, famous or even make a living by playing music because most music is given away or shared freely on the internet. But in a way, this will make music better, because the only people that will be in bands, are those that do it for the right reasons. You don't have to be the best musician to make music that people love, but you do have to have passion for whatever you do. So if I could give advice to myself at age 17, I would tell myself to believe in my music, practice like crazy, get a band together with enough songs to play for 45 minutes, and then record an entire album of your best songs. If you have an entire album, now you have a sound and a style that people can understand. Most bands never make it past the point of a photo session and writing a few songs. But most importantly, having an entire album now gives you a product. You can now sell that product, create a movement and you just may be the next Nirvana, Elvis or whoever. And don't ever forget how powerful one song can be. Some artists have a whole career off one song. And when you write your lyrics and music, allow your feelings to come out - the public can feel when you are being sincere when you put that into your music. People can identify with your feelings if you write about something that happened to you, because it may have happened to them. And now, you have spoken for them in a song. 
Who were your childhood heroes?
I loved Led Zeppelin, Def Leppard, Judas Priest, and The Beatles, but also local Seattle bands like Jimi Hendrix, Heart, Rail, TKO, SATO, Q5, Suicide Squad, and Myth. 
What are you listening to lately?
I'm like anyone – I can be influenced by anything or anyone. So if a friend sends me a link of their band or a new band is being talked about, I can learn from it and take something from it. I listen to all types of music. 
How is the rock scene in Seattle nowadays?
Well I don't really know what's happening in Seattle because I moved to Los Angeles in 1990.
Which are the things that made you proud through your music career?
I think I was a great organizer of people when I lived in Seattle and put together some musical combinations that are still relevant. And all through the 90s, I was in band called Cloud Nine, which I loved and will probably see a release at some point. But what a lot of people don't know about me, is that when I worked at the record label, Delta Entertainment, I had amassed so many CD credits, that I think eventually if we would have gone a few more years, I would have got into the Guinness World Of Records! It was the parent label and distributer for certain releases worldwide by Time-Life, Reader's Digest, Yamaha, Laserlight, Delta, Capriccio, Black Cat, BMG Special Products, and MCA Specials Products. But the label went bankrupt. And as I felt the entire music business lull, opportunity knocked again, and I became a music consultant for Thomas Tull (CEO of Legendary Pictures) and also worked with guitarist Steve Vai to try to start a label called Classical Nation. But my heart lies in creating songs, so I am most proud of all the songs I have written.

Are you working on anything special?
Yes, I've held onto a song until the time is right to honor Layne Staley and Mike Starr. So I'll talk about it since we have spoken of them today. It's called "Eagles Of Night", because to me, they were eagles of the Seattle music scene. It's tragic that they lost their lives doing what they loved to do. In other occupations, they don't encourage you to live on the brink of death. The song couldn't be rushed because it had to be very good and it represents their lives. In short, and in an almost cartoon-ish, but sad way, it tells the story of how they met, made music, became famous and died, maybe because of their fame. For the recording, I'm even using the same guitar we used back in the 80's with the first Alice In Chains lineup and the photo for the cover art (of the eagles) was taken by Abel Ames, who personally returned the stolen guitar to me after 30 years, [with his brother (Dave Ames) and brother's wife (Alexis Ames)]. When you put a lot these elements together, something magical happens. I know people will really love this song and it is my gift to Layne and Mike. They both gave me a place to stay when I needed it and didn't hesitate at all – which probably saved my life. I wanted to make a music video for it, but it seems like it becomes a licensing nightmare with their name and likeness. So I'm just going to release the song and hopefully fans will put their own photos and videos to the song. 
Temporary artwork for the still unreleased song called "Eagles Of Night."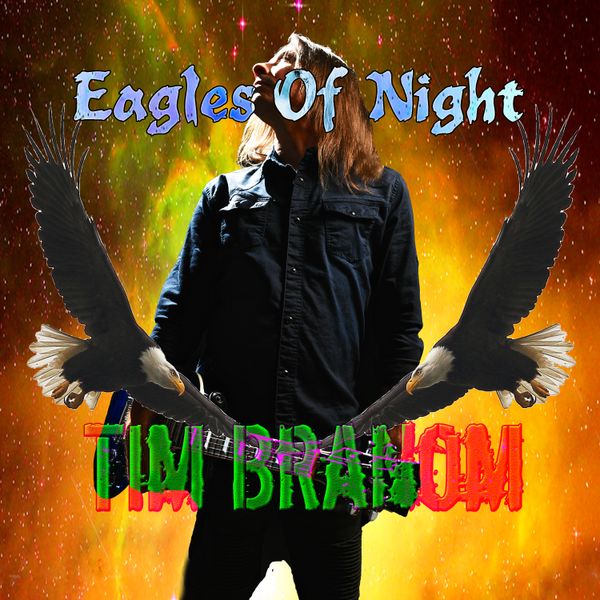 Photo credits: Dean Karr, Abel Ames