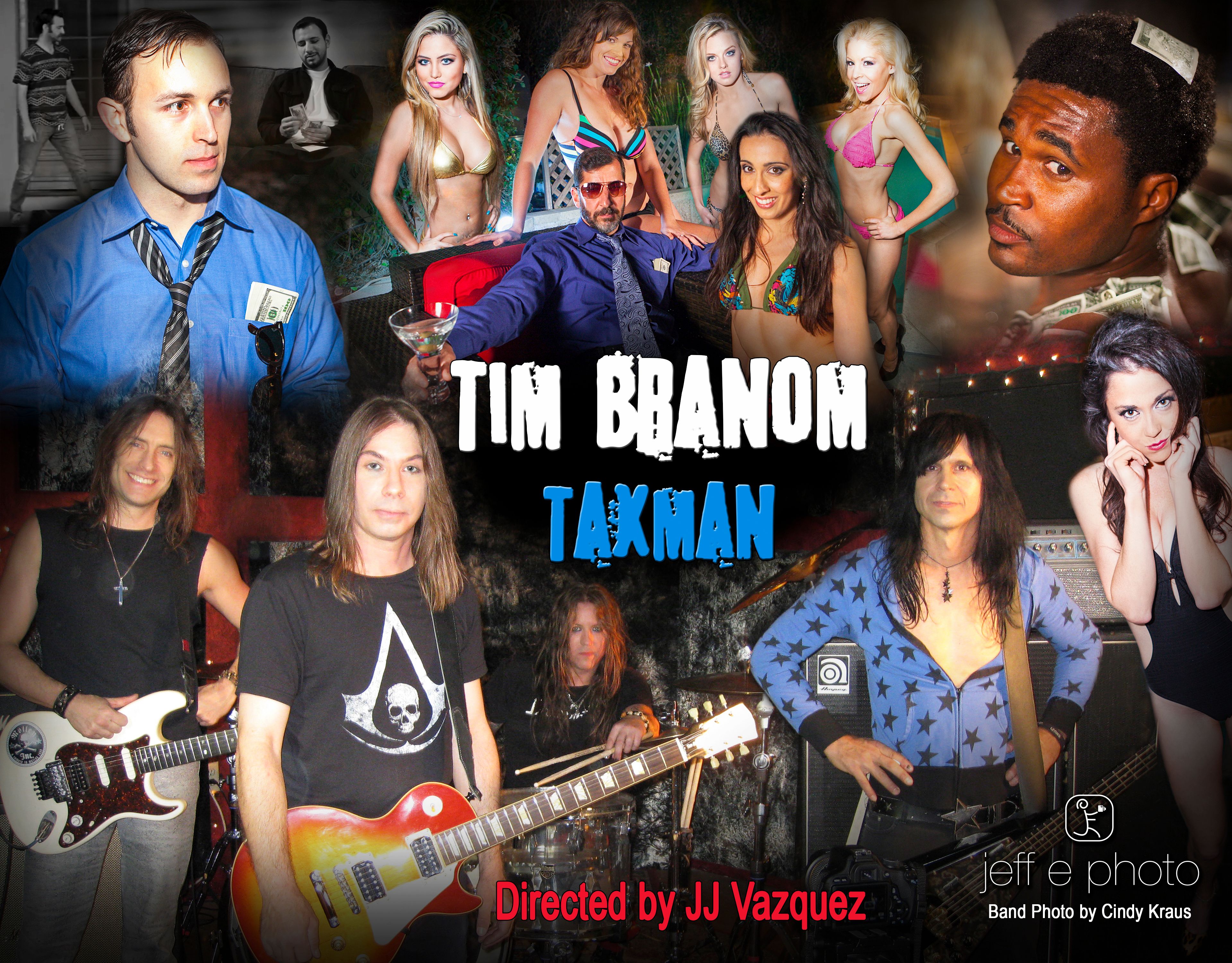 Press Release by Brent Strickland.
Los Angeles CA, November 23, 2014
What do babes in bikinis, hot tubs, clouds of cash, and a thieving IRS have in common?  They all come together in Tim Branom's rocking new video "Taxman", due to be released on November 23. 
Tim Branom (Fifth Angel, Cloud Nine) resumes his guitar-driven assault on metal in his new music video "Taxman", a modern take on Cheap Trick's under-appreciated classic.  Speaking about his rendition that takes the song to an entirely different level, Branom said: "I love Cheap Trick's original and could always hear a heavier version. I just don't hear enough guitar anymore and it's time to change that." 
As on most of his songs, Branom plays all instruments on the studio recording save drums by Chris Ross.  For the video, Branom gets a little help from his friends: turning up the volume are guitarist Lance Turner (Atomic Punks), bassist "Bumper" (Zero1), and drummer Troy Patrick Farrell (Gilby Clarke, White Lion, Tantric). 
The video blows the lid off the IRS's biggest secret: that they steal your hard earned money to party with hot tub vixens. In hiding from the government, Director JJ Vazquez was reached at his off-the-grid location. "We were lucky enough to find a bevy of sexy party girls and assemble the band for a few days. Let's just hope there isn't an accounting firm like the one in the video." Laughed Branom, "Yeah, that's exactly what the government wants you to believe." 
"Taxman" was mixed and mastered by powerhouse Claudio Cueni (Beware Of Darkness, 2Pac). 
The cast includes Damian Anastasio, Gabriel Devine, Damien Augustus, Alissa Christensen, Jessica Mayorga, Rachel Alig, Camilla Gimenez, Anne McDaniels, Kenzie Harr, Will Miller and Brian Lira.
For press inquiries, contact: Brent Strickland.