AlternativeNation.net by Brett Buchanan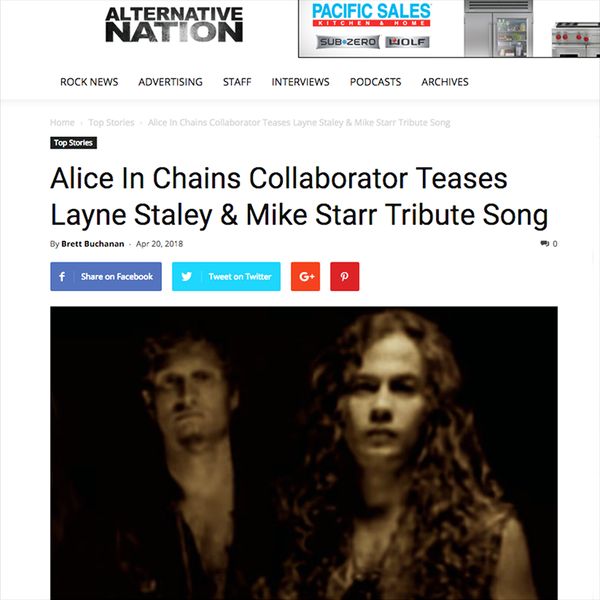 Tim Branom, who was an early collaborator with late Alice In Chains members Layne Staley and Mike Starr, discussed a tribute song he is working on in a new Music Festival interview. 
"Yes, I've held onto a song until the time is right to honor Layne Staley and Mike Starr. So I'll talk about it since we spoken of them today. It's called 'Eagles Of Night', because to me, they were eagles of the Seattle music scene. It's tragic that they lost their lives doing what they loved to do. In other occupations, they don't encourage you to live on the brink of death. The song couldn't be rushed because it had to be very good and it represents their lives. In short, and in an almost cartoon-ish, but sad way, it tells the story of how they met, made music, became famous and died, maybe because of their fame. 
For the recording, I'm even using the same guitar we used back in the 80's with the first Alice In Chains lineup and the photo for the cover art (of the eagles) was taken by Abel Ames, who personally returned the stolen guitar to me after 30 years, [with his brother (Dave Ames) and brother's wife (Alexis Ames)]. When you put a lot these elements together, something magical happens. I know people will really love this song and it is my gift to Layne and Mike. They both gave me a place to stay when I needed it and didn't hesitate at all – which probably saved my life. I wanted to make a music video for it, but it seems like it becomes a licensing nightmare with their name and likeness. So I'm just going to release the song and hopefully fans will put their own photos and videos to the song."